Here are some of the most common questions we receive, and answers to them. Don't see your question listed? Contact us!
WHAT'S YOUR RETURN POLICY?
We understand that it takes some faith to buy things over the internet, especially something like a grip. For that reason, we offer a full refund within 60 days of receiving the item. Just send us an email, and let us know which of the items from the order you'd like to return, and we will email you back a prepaid packing slip, that you can print out and tape to the same box/mailer the product arrived in, and drop in the mailbox. Once we receive the item, and verify it's in good shape, we'll refund the whole purchase price, minus shipping.
ARE THESE PRODUCTS MADE IN THE USA?

WILL YOU BE OFFERING AN AMBIDEXTROUS SAFETY BASED ON YOUR EXISTING DESIGN?
Yes. We are prototyping this right now. Expected availability will be Jan/Feb 2019!
WILL YOU GUYS DO A GRIP FOR THE AK PLATFORM?

Yes, definitely! That's high on our list. Look for that around April/May of 2019. If you haven't yet, sign up for our email list so you don't miss out on the release!
DOES YOUR GRIP WORK WITH THE AR-10?
Unfortunately, not really. The longer receiver of the AR-10 doesn't align with our grip, hurting the ergonomics.
We have prototyped an adapter that re-aligns the grip, but it places the user's hand so far from the trigger, that it would only work for the top 20% of large-handed people. Given that the market for AR-10 stuff is so small anyway, the project is pretty low on our priority list. We may eventually do it, but for now, we recommend the Strike Industries Megafin grip instead.
HOW LONG WILL MY PACKAGE TAKE TO ARRIVE?
Our warehouse is in New York, in East Syracuse. So, if you're in New York, expect 1-2 day shipping via USPS. If you're in California, 3-5 business days is typical.
WHAT ARE THOSE BANDS FOR?
Those bands are optional, to smooth out the rough edges on the endplate, castle nut, and/or buffer tube. If you want to see that demonstrated, check out this video. If you're looking for a more premium-looking solution to that problem, check out our ergonomic endplate!
Unless the product page says otherwise, yes. :)
CRAP, I MADE A MISTAKE ON MY ORDER; WHAT DO I DO?

Your order confirmation email has our company phone number towards the bottom. Call us ASAP, so we can fix your order before it gets sent out. Once it's out in USPS, there's not much we can do about it!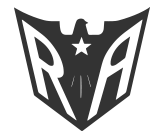 HELP REVIVE CALIFORNIA GUN CULTURE
Don't miss out on promotions and new products.